Coverage Information

As of January 19, individuals are able to order free COVID-19 at-home over-the-counter (OTC) tests from the Federal Government at covidtests.gov.
Self-Funded Pharmacy Plans with Pharmacy Benefit Dimensions: Starting January 15, 2022, Pharmacy Benefit Dimensions plan members can go to their pharmacy, a store or online to obtain an at-home over-the-counter (OTC) COVID-19 diagnostic test authorized by the U.S. Food and Drug Administration (FDA).
It should be noted that this is applicable to members of plan sponsors who have chosen to have this benefit applied through their pharmacy benefit. Please call PBD member services if you have questions on your eligibility.

Types of Tests Covered
The FDA has a list of OTC tests that are covered under this guidance. These are tests that individuals get without a doctor's order or clinical assessment, and perform on their own without sending them to a lab for processing.

Number of Tests Covered
Members may get up to 8 OTC tests in a 30-day period without a doctor's order. Since most test kits have two tests in them, a member would be able to get 4 test kits per 30-days.
This quantity limit does not apply to tests administered with a provider's involvement or prescription. OTC tests that need to be sent to a lab (i.e., OTC PCR test) are covered only by a doctor's order.
At-home OTC COVID tests are not recommended for children under the age of 2 and will not be covered for members under 2 years old.
We understand how important it is to manage this pandemic and correct use of testing is key. Testing should be done if symptomatic or exposed to an infected person, otherwise please save your OTC test for when you are experiencing symptoms.

Cost of Tests
For in network pharmacies, cost will be reimbursed for members. For out of network locations, members will be reimbursed up to $12 per test. Members may have to submit a claim for reimbursement.

Reimbursement Process
If you pay out-of-pocket for the test, you can submit a claim to be reimbursed. To submit a claim, log in to your secure PBD member portal and submit the online form.

Don't have an account? Register for one here.
This coverage applies to at-home OTC tests that members obtain on or after January 15, 2022.
Coverage for at-home OTC tests is subject to change pending federal guidance related to the public health emergency.
Putting our Members First
The COVID-19 crisis has had a widespread impact on many businesses. Companies in numerous industries have had to change the way they do business to keep their customers' best interests at heart.
At the onset of the pandemic in February 2020, Pharmacy Benefit Dimensions (PBD) immediately realized medication-use behaviors would be affected. As a pharmacy benefit manager that administers prescription drug plans for self-funded employer groups and Medicare Part D prescription drug plans, PBD moved quickly to put new policies and procedures in place to ensure its members would have adequate supply and access to their prescribed medications.
For your protection: be aware of potential fraud activity 
We are sharing this information as an important reminder so you can help protect yourself from fraudulent phone calls or phishing e-mails looking for information about you, not only for COVID-19, but for any instance when someone is trying to commit fraud.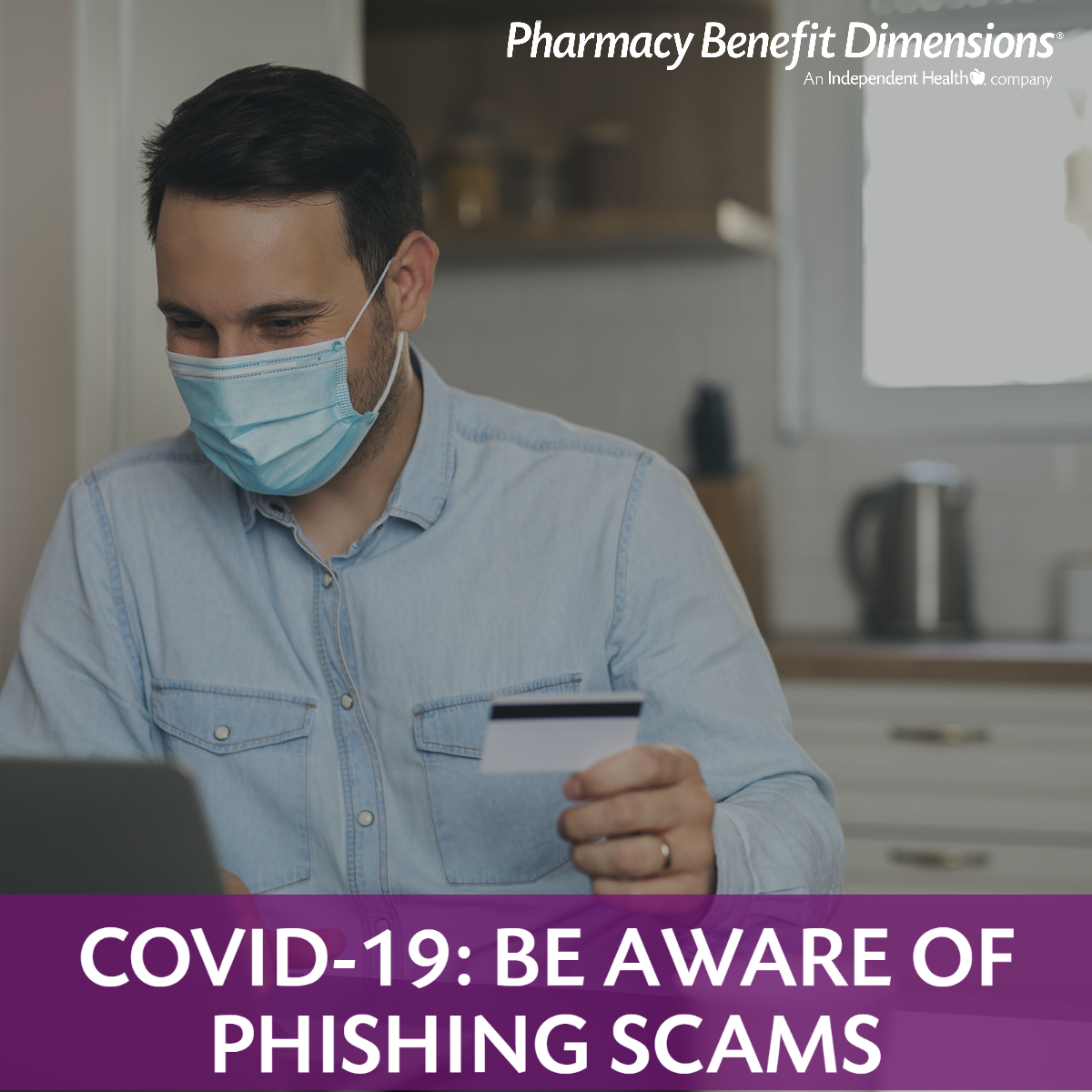 How to protect yourself from fraud:
The U.S. Office of the Inspector General offers some tips to protect yourself against these fraudulent schemes:
Be very cautious of unsolicited requests for your Social Security, Medicare or Medicaid numbers.

Do not share any personal information with an unknown caller. PBD would not call you and ask you for your member ID when we already have it

Read your Explanation of Benefits (EOB) statements from Pharmacy Benefit Dimensions/Independent Health. Make sure you actually received the treatments on the EOB, and question suspicious expenses.

Beware of offers for free health care services, tests or treatments. These offers are often fraud schemes designed to bill you and PBD illegally for treatments you never received.

More recently, be suspicious of any unexpected calls or visitors offering COVID-19 tests or supplies. Ignore offers or advertisements for COVID-19 testing or treatments on social media sites.

A doctor or other trusted healthcare provider should assess your condition and approve any requests for COVID-19 testing.
Watch Dr. Fauci's video on how to stay healthy from the Daily show.
We have worked diligently with our parent company, Independent Health, on preparedness efforts, which includes business continuity. Our commitment to our members is that they receive the same quality service and support they expect and deserve. Our teams are prepared with appropriate technology, skills and resources to assist you in any capacity.
We are closely monitoring developments through federal, state, and local health agencies, which are tracking the spread of the disease and continuing efforts to contain it. Because this is a rapidly evolving issue, we are encouraging our members to visit the federal Centers for Disease Control website.
Call your primary care provider and explain your symptoms and any recent travel history or close contact with someone who has. Before seeking health care, call ahead to the facility and tell them your situation. They will give you instructions on how to get care without exposing other people to your illness.
The most important things anyone can do to protect themselves from this and other illnesses is to practice good hygiene and to stay home if they are ill, and the same preventive measures people should take for any seasonal illness, including: wash your hands often, especially after using the bathroom, before food preparation and before eating; cover your cough and sneezes; clean surfaces regularly.
We are happy to work with you directly to accommodate your needs. Our flexibility allows us to quickly adapt as this situation continues to evolve.
As always, please let your account manager know if you have questions or if there is any additional information you need.
Pharmacy Help Desk
Pharmacists can call our Pharmacy Help Desk with any questions:
Phone
716-631-2927
1-800-993-9898
Hours of Operation
7 a.m. – 11 p.m. ET
7 days a week
Medicare Members
If you have questions, please contact our Medicare Member Services Department:
Phone
716-504-4444
1-800-667-5936
TTY users call 711
Email
PBDMedicareservicing@pbdrx.com
Hours of Operation
October 1 – March 31
Monday – Sunday
8 a.m. – 8 p.m. ET
April 1 – September 30
Monday – Friday
8 a.m. – 8 p.m. ET
Clients
If you have questions or would like to discuss temporary changes, please contact your PBD Account Manager directly. You may also contact our Client Support team at PBMClientSupport@pbdrx.com

Stay Up-to-Date
Because this is a rapidly evolving issue, please check the following sources regularly: