Patrick Comerford Jr., PharmD, CDCES
Director, Customer Service and Engagement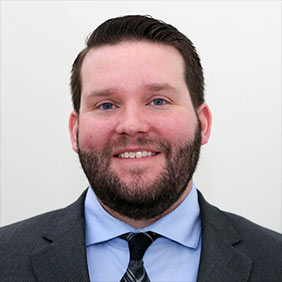 ABOUT
Pat has over 18 years of experience in pharmacy with expertise in building clinical programs, developing member adherence and education solutions, and mentoring students.
Since joining Pharmacy Benefit Dimensions in 2018 as Director of Customer Service and Engagement, Pat's vast responsibilities have included oversight of Operational Communications, Account Management, Clinical Pharmacy, Client Support, Member Services, Prior Authorization and the Pharmacy Help Desk teams.
Along with the leaders of these teams, Pat helps to guide the strategy for department staffing and growth along with ensuring that PBD provides the best client, member and provider experiences possible.
Pat's interests include golfing, camping and home remodeling projects. He also enjoys spending as much free time as he can with his wife and children going on local day trips or extensive vacations.
EXPERIENCE
Prior to making the move to PBD and working in pharmacy benefit management, Pat held various roles in retail pharmacy for over 15 years.
He began his career in pharmacy in 2001 at Wegmans after being accepted in the University at Buffalo's (UB) early assurance pharmacy track. During pharmacy school, Pat worked at Rite Aid pharmacy through 2006. He then accepted an opportunity to internship with Walgreens. After graduation, Pat worked as a Pharmacist for Walgreens for 2 years. In 2009, he was accepted into a Post Graduate Year-1 Pharmacy Residency that focused on primary care.
In 2010, Pat was named Director of Clinical Pharmacy Services at Mobile Pharmacy Solutions, a locally-owned independent retail pharmacy. He became partner in the pharmacy in 2013 and the group sold in 2018. Among his many duties, Pat reviewed financial information, discussed strategic visions and worked with his partners to ensure that decisions were made in the best interest of patients, employees and shareholders.
Throughout his tenure, Pat has been fortunate to precept dozens of pharmacy students from UB, D'Youville College, University at Pittsburgh and Lake Erie College of Osteopathic Medicine (LECOM). He helped develop two accredited Community Pharmacy Residencies and served as a residency preceptor for several years.
COMMUNITY WORK
Teaching and mentoring students has been an important and fulfilling part of Pat's personal and professional life. In addition to his work preparing students for their clinical residency as a pharmacy preceptor, Pat has been an internship mentor at the West Seneca Life Science Academy.
As a Certified Diabetes Care and Education Specialist (CDCES), Pat also helps educate people with diabetes and their families.
EDUCATION
PROFESSIONAL AFFLIATIONS
CERTIFICATIONS
AWARDS & ACHIEVEMENTS
DUTIES AND RESPONSIBILITIES:
Provider and Member Services
Account Management and Clinical Pharmacy
Prior Authorization and Benefit Administration
Contract Renewals and RFP Preparation
Service Level Management
Compliance
URAC Accreditation Standards
Strategic Team Growth Planning
Quality Management Committee Member
"I believe the best approach to reach our goals at PBD is to work collaboratively with all associates to provide excellent service and outcomes for our clients and members so they can maximize the value of their health care expense."
Fun Fact:
An avid Buffalo Bills fan, Pat is a proud season-ticket holder.