PBD Earns Best Companies Recognition Again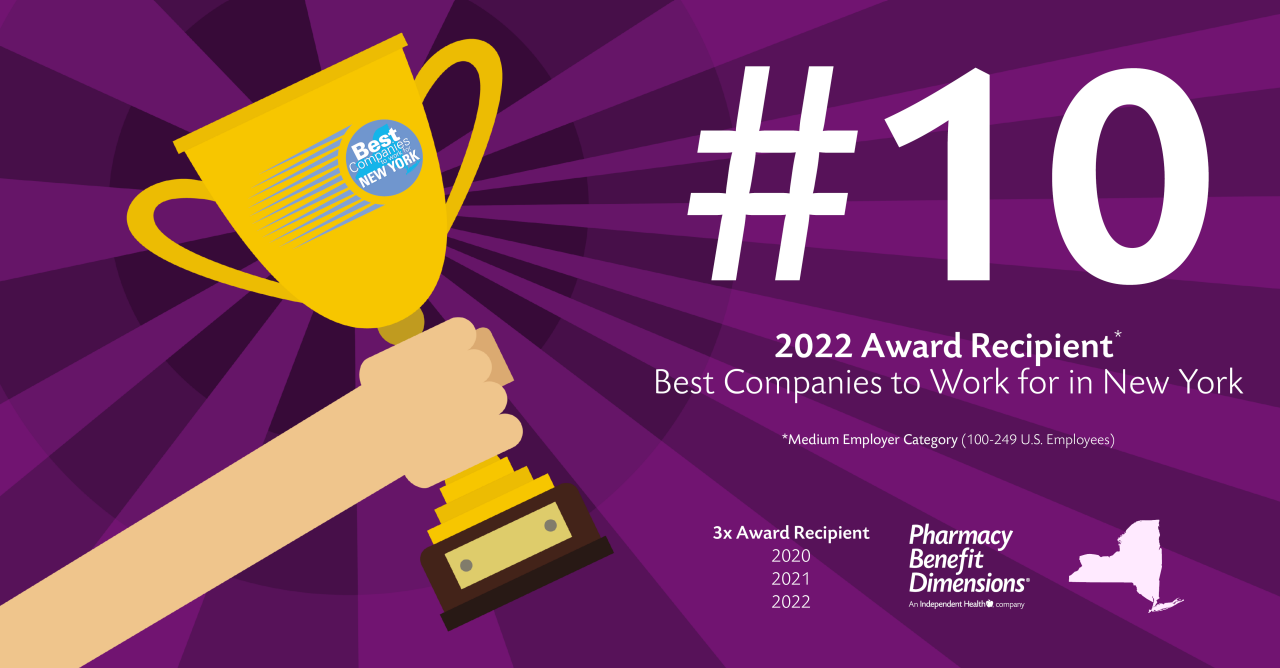 BUFFALO, N.Y. – April 18, 2022 – For the third consecutive year, Pharmacy Benefit Dimensions (PBD) has been selected as one of the top places of employment in the annual Best Companies to Work for in New York State awards program.
PBD ranked 10th in the medium-size company category in this annual survey and awards program that identifies and honors the top places of employment in the state. The process is managed by Best Companies Group (BCG) and winners are published by New York State Society for Human Resource Management (NYS-SHRM).
"PBD is humbled and honored to once again be one of the best companies to work for in New York State," said PBD President Lynne Reilly. "Our associates are key contributors toward our success because they are emotionally invested in our mission and core values. I am so proud of our hard-working and dedicated team. This recognition is a testament to all of our associates and their tireless contributions to PBD."
Employers from across New York took part in the program's two-part process to determine the best companies. Part I, the employer completes an online survey, detailing company policies, practices, benefits and demographics. Part II, employees complete a survey of in-depth statements using a scale of five points ranging from "Agree Strongly" to "Disagree Strongly."
To create an aspirational workplace during the pandemic, PBD has fostered a culture of inclusion, purpose, genuine listening and caring and empathy.
"Our associate experience is astoundingly as strong as it was pre-pandemic," Reilly added. "We have made a concerted effort to understand the current realities of our workforce. We learned to pivot and adapt to the workforce challenges, and took a holistic view of workers to support their full lives."
For more information on the Best Companies to Work for in New York State program, please visit www.bestcompaniesny.com.